PRODUCTS
Large Coach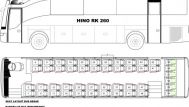 Large Coach
For the category of large size buses, there are several options that are often used as the bus chassis by Morodadi Prima, among others:
> Mercy :OH 1518, OH 1521, OH 1526
> Hino: R260
> Hyundai aero space
While based on the model, there are two types of models are generally produced by Morodadi Prima, namely: New Travego and Patriot which is a design patent of Morodadi Prima. However, Morodadi Prima always strives for customer satisfaction, where customers can create custom design as desired.
Medium Coach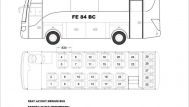 Medium Bus
For the Medium size bus category, there are several options that are often used by Morodadi Prima as the bus chassis, among others:
> Hino FB 130
> Mitsubishi : FB 84 G, FE 447, FE 83 BC, FE 84 BC.
> Hyundai 136 BLX
> Mercy MBO 800
Small Coach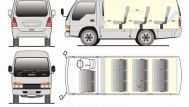 Bis Kecil
Morodadi Prima also produces Small size buses with a variety of chassis options, among others:
> Mitsubishi FE71.
> Toyota Dyna 110 St.
> Isuzu: Nkr 55L, NKr 77.
Shuttle Van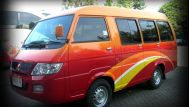 Shuttle Van
Prima Morodadi producing various models of the Shuttle Vans. There are 2 types of our products based on vehicle length:

> Standard

> Long: based on the chassis length or longer in accordance to a certain specified limits, and the provisions of Prima Morodadi, as well as the Road Safety department regulations in accordance with safety considerations.
Special Vehicle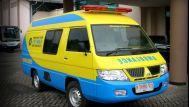 Special Vehicle
Morodadi Prima also produces various types of special vehicles according to customer needs, among others:
Ambulance
Hearse
Advertisement Car
Mobile Radio Station
Ventura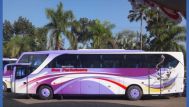 Ventura
One of the latest model from Morodadi is the Ventura, released brand new in 2012. This latest design is very striking and strong. Similar to our previous versions, this style can be built on any of large coach chassis.
New Patriot II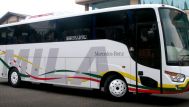 New Patriot II
New Patriot II was released early 2012 to address customer request. This design features a glass roof for an overall greater open space feel inside the bus.
Zonda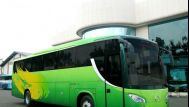 Zonda
These products Morodadi Zonda was launched in early 2012. Zonda products made by Customer request. This product is still fairly new and still fresh.
Tourismo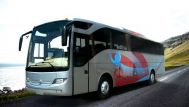 Tourismo
Here is the big Tourismo bus which was launched in 2011, following the request of the customer, in the progress there are some requests to change the headlights with different variants of the new lights.
Special Unit Medium Bus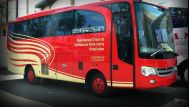 Special Unit Medium Bus
Here is a special unit Morodadi bus medium. Special unit made according to customer request in accordance with customer needs, such as the following example there are 2 types. Special units and special units for special medical bus, which of course therein are customized to the needs of the customer.